We were thrilled to see one of our favourite projects, Walnut Burrow, an Eco friendly underground house, on George Clarke's Amazing Spaces  (Series 4, episode 4, 18:33) last week. The bathroom is indeed "amazing", thank you for your comments Will!
We used large format tiles from Porcelanosa and the beautiful bath is from Victoria and Albert.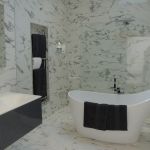 We had a very open brief from the developer, so used iconic furniture and accessories throughout to complement the cutting edge design and technology of the property.
We worked very closely with the amazing architects PFG design and lighting specialists Hilco Lighting Solutions.
The cinema room is fantastic, complete with starlit ceiling and original iconic film posters – unfortunately not shown on Amazing Spaces.
The open plan living area with it's light, bright spaces makes you forget that you are underground. It really is a house for modern living.
It was a very unique and fun project.