We enjoyed working recently with Mina, a fantastic artist who has worked with many Interior Designers and high profile developers.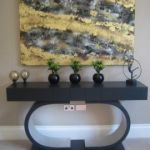 We commissioned Melissa to produce four canvas artworks for Leopold House which we worked on with Manorgrove Homes to produce a showhome in Surrey.
We gave Melissa colour samples and fabrics that we were using in the three rooms and each abstract painting was interpreted and produced in her own unique style. The feedback has been incredible.
We look forward to working with her again in the future.